Tackling Environmental Issues through Business Activities
Efforts to establish eco-friendly financing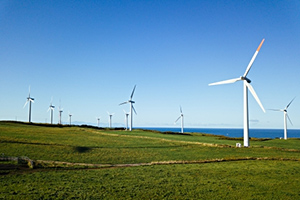 We are working to conserve the environment through our business activities in a bid to protect our region's rich natural environments and ensure that they can be enjoyed for generations to come. Such measures we have taken include providing environmentally-rated financing systems and financing services to support customers' environment-oriented efforts, as well as adopting a proactive stance toward renewable energy projects. Furthermore, we are striving to help improve the effectiveness of conservation activities through such means as credit screenings that take into account the steps clients have been taking to conserve the environment.
Furthermore, we have been involved in funding and establishing solar, wind, biomass and geothermal power plants, and have also invested in the Kagoshima Renewable Energy Fund.
Financing services to support customers' environment-oriented efforts
In addition to financing, we also offer fixed deposits that include a donation to environmental organizations, as well as eco-friendly investment trusts.
Tackling Environmental Issues through our Social Contribution Activities
Environmental conservation activities
We are making efforts to conserve the environment through a range of social contribution activities outside the financial services industry. These include groundwater conservation activities through the Higo Water and Greenery Protection Fund Charitable Foundation

(Higo Bank), projects to maintain prefectural forests based on the Kagoshima Environment Partners Agreement

(Kagoshima Bank), and afforestation projects in local rural areas (both banks).
Higo Water and Greenery Protection Award
Area of afforestation supported by Kagoshima Bank
Regenerating rice paddies on abandoned farmland in Aso
Kyushu Forest Day Tree Planting Festival
Eco-friendly bank branches and business operations
When establishing new business assets and conducting our business operations, we try to give as much consideration to the environment as possible. Here are some examples of the measures we have taken.
Installation of solar power/wind power generators, LED lighting, equipment for utilizing rainwater, equipment for utilizing geothermal heat, creation of rooftop gardens, utilization of natural light, heat insulation/cooling through double skin structures, use of porous asphalt, EV, PHV, introduction of eco-friendly vehicles like cars using biodiesel fuel and electric motorcycles, going paperless with in-house documents, recycling used paper, etc.
Creation of rooftop gardens
Solar panels at our headquarters and branches