All members of Kyushu Financial Group constantly strive to improve customer convenience through the expansion of products, functions and services.
[Developing and expanding our banking environment]
In addition to developing and expanding our Internet and mobile banking environment, we have taken other measures that include mutual depositing services via ATM, making it possible for customers to use the ATMs of both banks to make deposits and pay off card loans, as well as PayB, a smartphone payment service that allows customers to process payments without having to visit a bank branch.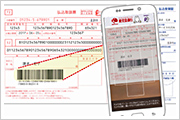 Furthermore, we have been taking steps to provide our customers with an easy, safe and fast banking environment, such as by adding a smartphone ATM (cardless) withdrawal system, as well as a voiceprint authentication function.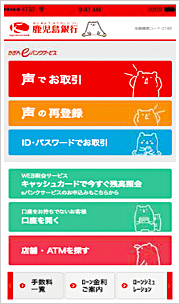 [Mobile banking vehicles]
At Higo Bank, we introduced Harmonicar, a mobile banking vehicle, with the goals of improving customer convenience and facilitating business continuity planning (BCP) during times of disaster. We are taking initiatives like these as part of our mission to lend a helping hand to local communities, providing financial services to customers in areas with few bank branches along with emergency disaster support for when the need arises.
At Kagoshima Bank, we have also begun trials of mobile ATM vehicles.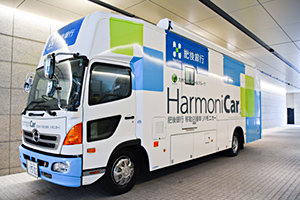 [Establishment of a securities subsidiary, entry into the trust services market]
In order to provide customers with a one-stop-shop for highly specialized financial products and services, we established Kyushu FG Securities, Inc., a subsidiary which allows us to greatly expand our product lineup to include shares, bonds and investment trusts.
We are also preparing to enter the trust services market. We are striving to revitalize the region by improving our capability to respond to the need for asset succession planning and giving full play to our overall regional financial strengths through combining our banking, securities, and trust services.