Message from Chairman and President
Chairman and Representative Director:
Takahiro Kai

President and Representative Director:
Motohiro Kamimura
Message to Our Customers
In October last year, Kyushu Financial Group celebrated the second anniversary of our foundation. We would like to take this opportunity to express our deep gratitude to you for your continuing support and cooperation.
Although Japan's economy in fiscal 2017 continued its steady recovery based on the moderate growth of the global economy, the fiscal and economic environment surrounding regional banks, such as population decline and long-term low interest rates, has remained severe.
Against this background, the Kyushu Financial Group formulated the 1st Group Medium-Term Management Plan (Collaboration Stage - to March 2018) with the aim of becoming Kyushu's top full-service financial group for customers. We have steadily created an integration effect toward building a business foundation geared to providing optimal, high-level financial services to our customers.
In fiscal 2018, we launched the 2nd Group Medium-Term Management Plan, which is positioned as the Integration Stage. By speedily promoting the integration of the Group and harnessing Group synergy to the maximum extent, we aim to evolve into a "local vitality co-creation group" that can create local communities full of vitality together with our customers and local residents.
We will also continue as a Group to provide support to promote creative reconstruction in the aftermath of the Kumamoto Earthquake, which caused such great damage in our local community of Kumamoto.
In these endeavors, we sincerely request your continuing support and cooperation.
Kyushu Financial Group, Inc.
June 2018
Management Philosophy
Kyushu Financial Group will aim to become a comprehensive financial group which will be truly favored by customers based on the following three philosophical pillars, targeting the realization of sustainable growth.
The Group will respond to the trust and expectations of customers and will provide optimal, high-level comprehensive financial services to its customers.
The Group will develop alongside local regions and actively contribute in the realization of a vigorous regional society and economy.
The Group will nurture an abundance of creativity and a free-spirited organizational culture, continuing to challenge itself to move toward a better future.
Company Outline
Corporate name
Kyushu Financial Group Inc.
Address of Main Branch
(registered address)
6-6 Kinsei-cho, Kagoshima-shi, Kagoshima
Address of Headquarters
1 Renpei-cho, Chuo-ku, Kumamoto-shi, Kumamoto
Representatives
Chairman and Representative Director: Takahiro Kai (Chairman, The Higo Bank, Ltd.)
President and Representative Director: Motohiro Kamimura (President, The Kagoshima Bank. Ltd.)
Capital
¥36.0 billion
Date of founding
October 1, 2015
Listed stock exchanges
Tokyo Stock Exchange (1st section)
Fukuoka Stock Exchange (main board)
Securities Code
7180
(As of June 26, 2018)
Organizational chart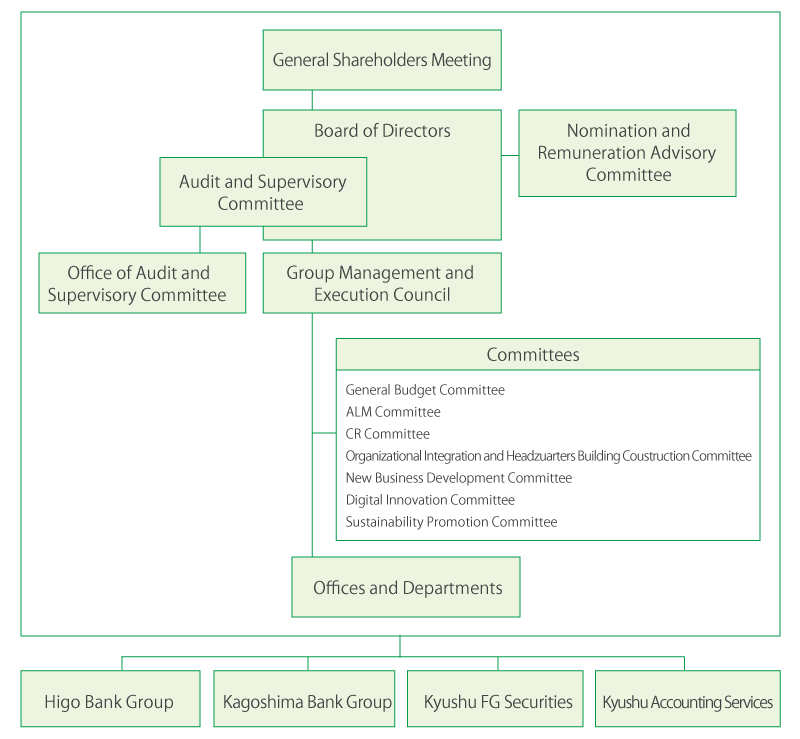 Members of the Board
As of July 1,2018
Chairman and Representative Director:
Takahiro Kai

President and Representative Director:
Motohiro Kamimura
Director and Senior Managing Executive Officer
Tsuyoshi Mogami
Director and Senior Managing Executive Officer
Tsutomu Nakamura
Director
Yoshihisa Kasahara
Director
Akihisa Koriyama
Director and Executive Officer,
General Manager of Corporate Planning Division
Toru Hayashida
Director and Executive Officer,
General Manager of Group Strategy Division
Tsukasa Tsuruta
Director
Katsuaki Watanabe
Director
Yuji Nemoto
Company Auditor
Yuichi Tanabe
Company Auditor
Hirofumi Kaigakura
Company Auditor
Kenichi Sekiguchi
Company Auditor
Katsuro Tanaka
Company Auditor
Yuko Tashima
Executive Officer
Tsutomu Tajima
Executive Officer, General Manager of Compliance and Risk Management Division
Eichi Eto
Executive Officer, General Manager of Business/ IT Management Division
Norihisa Akatsuka
Executive Officer, General Manager of Audit Division
Michiaki Miyawaki
Executive Officer,Chief of Human Resources and General Affairs Office
Seiji Yamamoto